Adhere to all electronic components are from the original manufacturer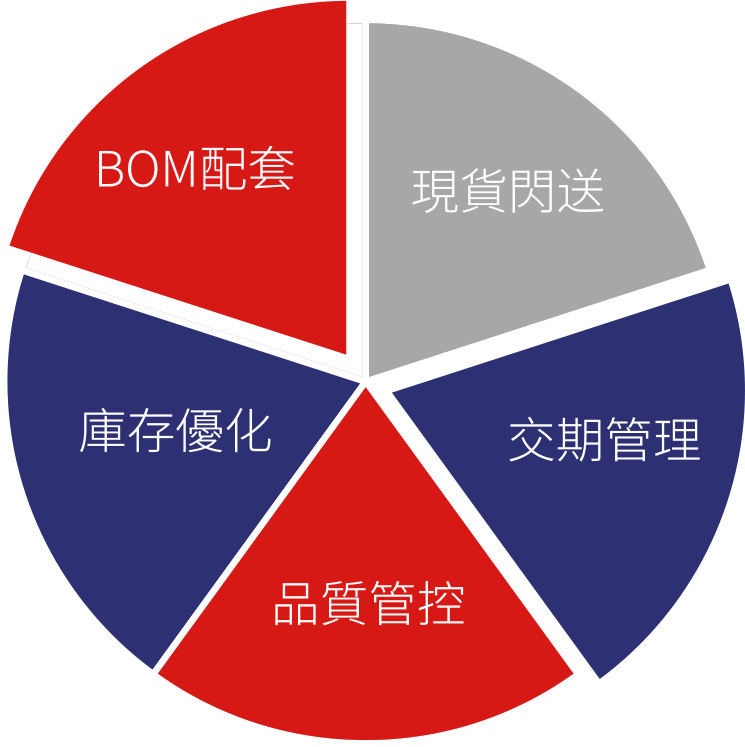 8 major services and supports
High efficiency service, create better value
Adhere to the tenet of "Only Genuine, Only Original", we promise that all the goods provided are original and authentic.Adhere that all electronic components are from the original manufacturer.
The professional procurement team in Bitronic can quickly conducts global cross-regional procurement price comparisons and realizes global product price integration, helps customers reduce costs, and provides customers with the best price solutions.
By cooperating closely with more than 1,000 suppliers in the electronics industry, we help customers quickly obtain inventory in the global electronic component distribution market, thereby reducing the lead time.
Ensure all kinds of  shortage ICs, memory chips, passive components and other parts with stable delivery time:Domestic local delivery within 24 hours,2-3 days delivery for Asian sources outside China,Overseas delivery in 5-7 days
1.Quality inspection project: strict and comprehensive quality inspection process,QC team with 10 years experience in EMS quality control,complete supplier access and incoming inspection standards to ensure that parts [zero defective products] are delivered to customers
2.BOM matching: to do a centralized and stable supply of the components of the customer's BOM list
Regarding actual needed for outsourcing testing and included:
opening inspection, X ray, Function testing, Electrial specification testing
Packaging checking,
Label checking (item no., quantity, D/C, humidity level, temperture, rohs compliance), also confirm and compare with label data base,
Element checking, printing, pin, datasheet confirm and element itself checking,
Size inspection
Electrical performance testing
Passive deivce resistance, capacitance and sense pass the digital electric bridge
We provides the following testing and value-added services in-house. Our staffs will provide the services to meet our customers needed.
Solderability testing
RoHS element analysis with the Niton Xlt XRF Analyzer
Baking and dry-packing of components onsite to JEDEC specifications
Tape and reel
Vacuum sealing
Decapsulation
IC Programming
CCAP counterfeit test requirements
X-ray
Bonded inventory
Importing
JIT delivery
Kitting
Purchasing services
Market analysis
Customer-specific instructions
Certificate of destruction for disposed inventory
Customer/supplier corrective action for all service defaults
We're here to provide exceptional customer service to each and every business partner. We're dedicated to the highest level of quality service delivered with a sense of friendliness, professionalism and company spirit.
Our goal is to not just to meet your expectations, but to exceed them with the most positive, prompt and helpful service in the electronics industry. With a team of professionals that average a decade of experience, we value our interactions with you and use them as a means to improve our system to meet your ever-changing needs. We strive to build and strengthen our relationship with you to ensure mutual success.
Our exceptional customer service includes:
Full return policy
Customer complaints/concerns are reviewed to detect and eliminate potential causes of non-conforming product
The turn around time for our Customer Service representative to respond to all our customer's inquiries is within 48-72 hours from we received.
A Buyer may return to the Seller any goods that are damaged or defective by obtaining a Return Material Form from our sales within 30 days of receipt of the goods. The Buyer must return the damaged or defective goods within the period set forth in the Return Material Form . The Return Material Form number must be listed on all packaging containing goods returned to the Seller. If the Buyer does not request Return Material Form within 30 days of receiving the goods, or requests Return Material Form for goods that are not damaged or defective, we may, at its sole discretion, refuse to issue Return Material Form for return of the goods or may require that Buyer pay a reasonable restocking fee as a condition of issuing the Return Material Form to the Buyer.