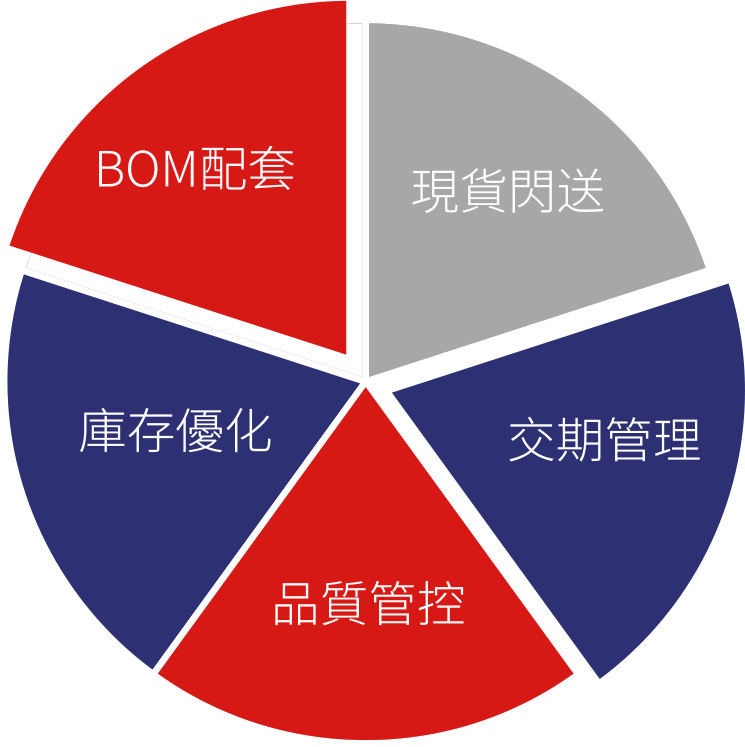 佰創力在全球經營各類電子元件品牌多達1000餘種,為客戶提供一站式配套服務:立志幫助客戶實現更有效的供應鏈管理,並降低採購時間和成本,保持市場競爭力;對客戶BOM表的元件做集中的長期穩定的配套供應,保證按客戶的生產計畫交貨,同時簡化物流安排,降低成本。
2. 現貨閃送 SPOT FLASH DELIVERY
運輸安全
佰創力作為全球知名EMS電子產品製造商首選現貨供應合作夥伴,保證正常情況下,各類緊缺C、存儲晶片、被動元件現貨三天內送達,全以赴打造。佰創力在香港設立物流中心,嚴格挑選物流供應商,採用門對門特快專遞服務,與國內外知名的快遞、物流公司如順豐、FedEX、DHLUPS、
TNT等建立長期穩定的合作,確保運輸安全與時效,安全託付,使命必達。
星服務:交付時效
佰創力通過與電子行業發達的四大洲1000+家供應商緊密合作,確保亞洲貨源1-3天交貨,歐美貨源3-5天交貨。
佰創力擁有出色的全球銷售團隊和完善的銷售網絡;
7*24小時全方位運作的採購銷售團隊;
在香港設立物流中心,所有貨品出貨前經過嚴格檢驗,保證原廠原裝新貨;
採用門對門特快專遞服務,保證緊急貨物3天內送達客戶手中滿足客戶急需
對短缺緊急物料有優先獲取通道;
現貨交期 2天法則,即2天確定交貨時間
訂貨交期 30天法則,即30天確定交貨時間
「售前」
針對原廠、供應商、代理商採用AVL制度
「售中」
10年EMS品控經驗的QCTeam,
保證到客戶手裡的零件"零缺陷"。
針對原廠、供應商、代理商採用AVL制度
「售後」
7*24小時不停歇售後客服
2小時內,針對客戶需求回應解決方案
100%品質管控目標,全維度品質保證計畫。
1小時內快速回應
專門的客訴處理小組和完善的客訴處理流程,收到客訴後一小時內立即啟動客訴處理程式,第一時間全資源配合客戶處理異常。
SAP追責管理系統
採用行業最先進的SAP管理系統對於物料資訊進行管控,確保來貨資料、照片、Lot NO.等重要資訊完整可靠。
完善的報告體系
據客戶需求佰創力可出具伯創力糾正預防措施報告、FA報告、8D報告等,同時可根據需要出具代理商/原廠檢測報告,另外也可出具具有法律效力的第三方實驗室報告。
Regarding actual needed for outsourcing testing and included:
opening inspection, X ray, Function testing, Electrial specification testing
Packaging checking,
Label checking (item no., quantity, D/C, humidity level, temperture, rohs compliance), also confirm and compare with label data base,
Element checking, printing, pin, datasheet confirm and element itself checking,
Size inspection
Electrical performance testing
Passive deivce resistance, capacitance and sense pass the digital electric bridge
We provides the following testing and value-added services in-house. Our staffs will provide the services to meet our customers needed.
Solderability testing
RoHS element analysis with the Niton Xlt XRF Analyzer
Baking and dry-packing of components onsite to JEDEC specifications
Tape and reel
Vacuum sealing
Decapsulation
IC Programming
CCAP counterfeit test requirements
X-ray
Bonded inventory
Importing
JIT delivery
Kitting
Purchasing services
Market analysis
Customer-specific instructions
Certificate of destruction for disposed inventory
Customer/supplier corrective action for all service defaults
We're here to provide exceptional customer service to each and every business partner. We're dedicated to the highest level of quality service delivered with a sense of friendliness, professionalism and company spirit.
Our goal is to not just to meet your expectations, but to exceed them with the most positive, prompt and helpful service in the electronics industry. With a team of professionals that average a decade of experience, we value our interactions with you and use them as a means to improve our system to meet your ever-changing needs. We strive to build and strengthen our relationship with you to ensure mutual success.
Our exceptional customer service includes:
Full return policy
Customer complaints/concerns are reviewed to detect and eliminate potential causes of non-conforming product
The turn around time for our Customer Service representative to respond to all our customer's inquiries is within 48-72 hours from we received.
A Buyer may return to the Seller any goods that are damaged or defective by obtaining a Return Material Form from our sales within 30 days of receipt of the goods. The Buyer must return the damaged or defective goods within the period set forth in the Return Material Form . The Return Material Form number must be listed on all packaging containing goods returned to the Seller. If the Buyer does not request Return Material Form within 30 days of receiving the goods, or requests Return Material Form for goods that are not damaged or defective, we may, at its sole discretion, refuse to issue Return Material Form for return of the goods or may require that Buyer pay a reasonable restocking fee as a condition of issuing the Return Material Form to the Buyer.